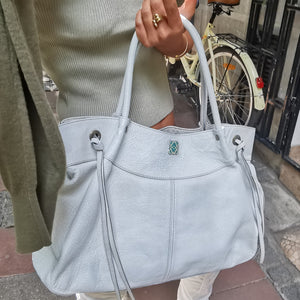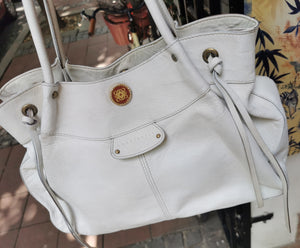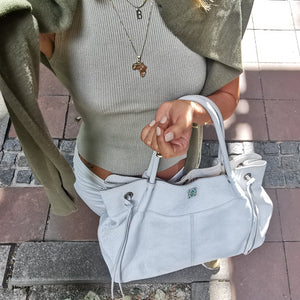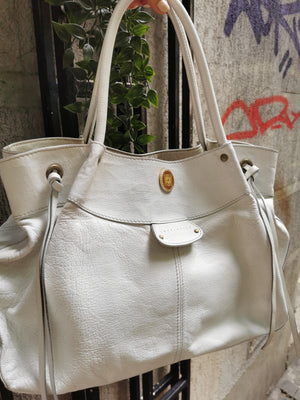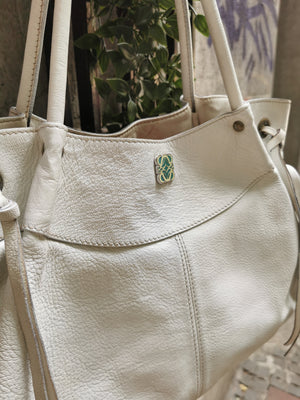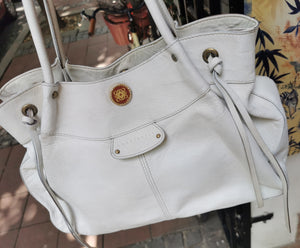 White Leather Vintage Bag / Kožna Bela Vintage Tašna
The White Leather Coccinelle Tote Bag is a stylish and versatile accessory. Its clean white color makes it easy to pair with a variety of outfits.
For a casual look, consider wearing it with denim jeans and a striped shirt. If you're going for a more polished appearance, pair it with a tailored dress or a blouse and slacks.
The bag's neutral tone allows you to experiment with different colors and patterns, making it a great addition to your wardrobe.
Vintage/Designer:
 VINTAGE
Vrsta
 

artikla:
 TAŠNA
Marka:

 
COCCINELLE
Boja:
 BELA
Materijal:
 KOŽA
CENA: 18.880 RSD
šifra: kb1385
Vintage/Designer: VINTAGE
Type: LARGE BAG
Brand: COCCINELLE 
Color: WHITE
Material: LEATHER
Size: Large bag
Measurements:  40

X27X13cm

Condition: 10/10
.......................................................................................
Sve stvari koje vidite na sajtu možete videti i uživo u Jane Doe vintage i dizajn shop - u na Dorćolu, Kapetan Mišina 17, Beograd.

Radnim danima 12-20h, Subotom 12-18h
Za više informacija o artiklima i porudžbini možete nas kontaktirati putem mail adrese janedoeshop@gmail.com
Sve porudžbine preko sajta za područje Srbije šalju se Postexpresom i stižu u roku od 3 radna dana nakon porudžbine.
Opcije plaćanja:
Na račun: Jane Doe Shop, 325950050010113028 OTP banka, Beograd

Ukoliko želite da platite pouzećem, prilikom Checkout-a, potrebno je da selektujete opciju MoneyOrder i popunite vaše podatke. 
Treća opcija je PayPal.

NE SNOSIMO ODGOVORNOST ZA OŠTEĆENJA VINTAGE ARTIKALA KOJA SE NE VIDE NA FOTOGRAFIJAMA KAO I NA OŠTEĆENJA NASTALA U TRANSPORTU.
----------------
All items on this website are available in Jane Doe vintage and design shop in Belgrade, Kapetan Mišina 17.
Please note that all vintage items may have small signs of wear. We will try to state all the visible marks in our description. 
Please visit our other profiles on Facebook and Instagram
Instagram: @janedoeconceptstore  @janedoevintageshop
Facebook:
INSTAGRAM profile - CONCEPT STORE