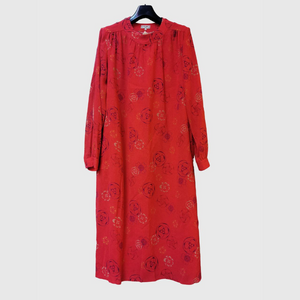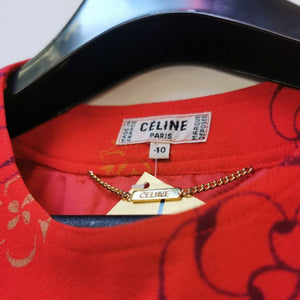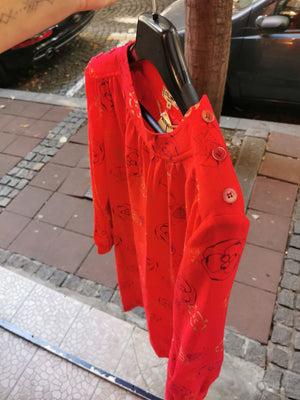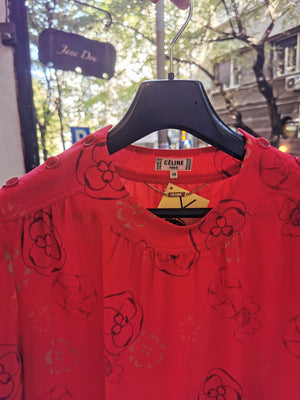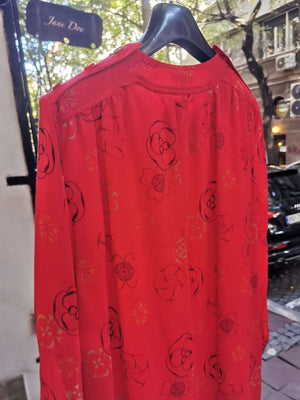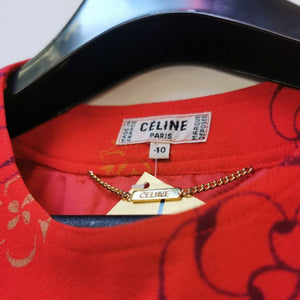 Céline Red Floral Vintage Dress / Céline Crvena Cvetna Vintidž Haljina
The Céline Red Floral Dress is a masterpiece from the renowned Céline brand.
This exquisite dress, expertly crafted from a luxurious wool mix, features elegant button detailing on the shoulders.
Céline, synonymous with timeless fashion and impeccable design, presents a dress that exudes sophistication and style.
The rich red hue and delicate floral pattern make it the perfect choice for any occasion, allowing you to make a bold fashion statement.
Elevate your wardrobe with the Céline Red Floral Dress, a symbol of enduring elegance and quality.
Don't miss out on this opportunity to own a piece of fashion history!
Vintage/Designer: Vintage

Type: Dress

Brand: Céline

Color: Red

Material: Wool Mix

Note: 

Size: M-L | 38-40

Condition: 10/10
------------------------
Vintage/Designer: Vintage

Vrsta artikla: Haljina

Marka: Céline

Boja: Crvena

Materijal: Mešavina vune

Napomena: 

Velicina:

 M-L, 38-40

Stanje: 10/10
CENA: 39.340 RSD
šifra:  kds2
Sve stvari koje vidite na sajtu možete videti i uživo u Jane Doe vintage i dizajn shop - u na Dorćolu, Kapetan Mišina 17, Beograd.
Sve porudžbine preko sajta za područje Srbije šalju se Postexpresom i stižu u roku od 3 radna dana nakon uplate na račun.
Prilikom Checkout-a, potrebno je da selektujete opciju MoneyOrder i popunite vaše podatke. Druga opcija je PayPal.

broj računa: Jane Doe Shop, 325930050047383368 OTP banka
moguće je i plaćanje pouzećem
NE SNOSIMO ODGOVORNOST ZA OŠTEĆENJA VINTAGE ARTIKALA KOJA SE NE VIDE NA FOTOGRAFIJAMA KAO I NA OŠTEĆENJA NASTALA U TRANSPORTU.
----------------
All items on this website are available in Jane Doe vintage and design shop in Belgrade, Kapetan Mišina 17.
https://www.facebook.com/JaneDoeVintageShop